The Studio Apartment - Sleeping 2
This quiet, private studio apartment on the ground floor of the converted farmhouse comprises of one cosy room, hallway and adjoining bathroom. There is a double bed and colour TV and the spacious bathroom has a bath and separate shower. South facing, the studio overlooks the secluded garden which guests are welcome to enjoy.
Simple catering facilities are provided with fridge, freezer, microwave with grill, toaster and all the basic essentials for self-catering. Please note that there is no oven/hob. A perfect cosy "snug" for 2 people or ideal for overflow accommodation for other lodges/cottages.  Parking in front of the property.
How to book:
In order to book directly with us, we require completion of our booking form - Bookings  and the appropriate deposit or full payment. Payment can be made by BACS transfer or by card over the phone on 01423 780279.
If you require further information prior to booking, please contact us using the enquiry form - Enquiry Form or by phone on 01423 780279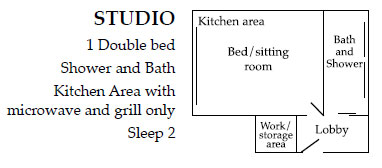 Cottages not ETC inspected